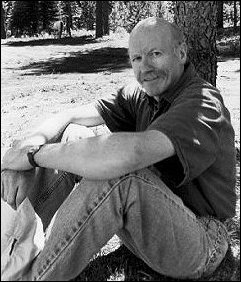 As a boy growing up in the Cascade mountains of northern California, I wanted to be an astronomer. In the eighth grade, I spent three months walking around a barrel, grinding a mirror for my home made telescope. Looking out into those clear, dark nights ignited a sense of wonder that's never left me. But I didn't become an astronomer. I later found out astronomers either spent their lives on mountain tops or teaching. Neither appealed to me then. So, I became a forest ranger instead, spending lots of times on mountain tops and teaching.

Music is important to me, too. I played trumpet through high school and helped put myself through college playing guitar in a "rock" band. While living in San Francisco, I seriously pursued song writing and performed in a folk group in the city.

I've produced occasional radio jingles, been a freelance audio visual consultant, and worked as a sound designer for professional live theater. I eventually took up acting and still travel around the country performing a multi-media portrayal of a turn of the century conservationist, a production I wrote and constructed.

I started writing children's books because my wife, Anna, suggested it. After all, some of my work with the Forest Service involved working with kids and developing slide presentations, putting words with pictures, like a picture book but different.

My books include A Ride In The Crummy, Flying Firefighters and The Day of the High Climber, all illustrated by Anna. One of my short stories, The Train Room, lurks in an anthology edited by Jane Yolen called The Haunted House.

Thanksgiving in the White House and A Christmas Tree In The White House are both illustrated by Alexandra Wallner. The first is about Tad Lincoln convincing his father to emancipate a turkey and the other about Theodore Roosevelt's kids sneaking a Christmas tree into their bedroom--against their father's conservation policies.

My newest book, Midnight Forests, tells how Theodore Roosevelt and his chief forester, Gifford Pinchot, protected some forest lands by hoodwinking their opponents.

For more information about me, go to my home page.