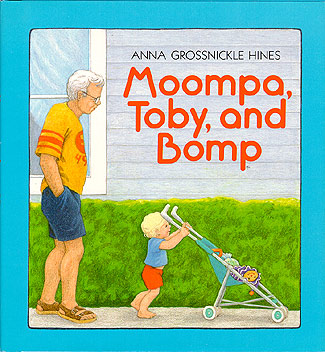 The story began on a summer visit with friends in Santa Cruz, California. Their young grandson, Ivan, was about a year and a half, a cherubic blond and just beginning to talk. In his growing vocabulary were such words as doots, for ducks, bup, for bread, and buppadup, for bread with butter or peanut butter. His Grandmother, Deborah, he called, "Adya", and his granddad, Alan, was "Moomba".

I have always been fascinated by the magical way children learn to speak and also remembered how much my own children, as soon as they were old enough not to use "baby-talk", enjoyed hearing how they said some of their own early words. Perhaps those children just learning to talk, as well as some slightly older, would enjoy a story about that early communication.

So I wrote what began as Moomba, Ivan and Bomp. It seemed so simple that I had doubts about it being a real story until a writing friend saw it and made the suggestion that Bomp have his own little adventure in the background. It was a good suggestion and I was glad to take it. Some writers keep their work very private, showing it only to their editor or perhaps their spouse. For years I didn't know any other writers and though my family was always happy to read my stories and sometimes had helpful remarks, I am happy to now have met and made friends with several other writers of children's books. We often read one another's work and make comments and suggestions. I enjoy those friendships...and often, as in the case of Moompa, get some very good advice.

It was another of those friends who kept slipping into calling the grandfather Moompa instead of Moomba, which I decided would be easier for most people to associate with Grampa. Then my editor asked me to change Ivan. He felt that in combination with Moompa and Bomp it was a bit too exotic sounding. I hated disappointing my friends, but their little Ivan, now about ready to start to school, is the chubby little fellow in the pictures. And yes, Moompa is a big 49er fan, as is their whole family. My husband has spent many Sunday afternoons and Monday evenings cheering and moaning over games with them.

I made Bomp up, remembering the floppy clown dolls my mother had made for my three youngest brothers, and wanting Toby to have something different than a teddy bear. Later that year on a visit to take more pictures of Ivan for the illustrations, I found that he did indeed have a toy clown, made for him by a special friend.

The illustrations are done in colored pencil, the first time I had used it to build up solid colors. Since the book is for young children, I used bright primary colors. The trickiest part was figuring out the playground, keeping in mind what would be in the background in each of the various views. I had to place the equipment so that Bomp could be seen in the background, as Toby and Moompa were busy in the in the foreground. I actually made a tiny model with clay and put it on a three or four inch square card so I could turn it around and look at it as I worked.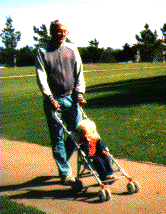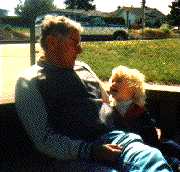 I tried to make Moompa resemble our friend Alan, but drawings go through so many stages, and the photographs don't always have just the expressions I need, so things tend to change. Some pictures look more like him than others. Deborah pointed out that I did get one thing very wrong. He doesn't wear Birkenstocks, but I thought sandals would be easier to deal with in the sandbox incident. Artistic license!