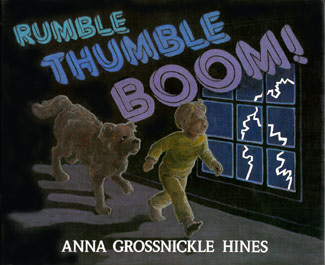 The story began years before it was finished. I had tried several versions of a story about being afraid of thunder, but none were satisfactory. I put them back in the drawer, thinking about them from time to time, working on them now and then, waiting for that idea that would suddenly make the other ideas work. That's what stories are basically, ideas working together. One idea might be the inspiration for starting a story, but all by itself it can't be a story. A writer collects ideas, sometimes in her head, sometimes in a journal or notebook, sometimes on scraps of paper. I do all of those things—none in a very organized way. Those ideas rattle around, grow, combine in different ways until finally, there is a story.

For Rumble Thumble Boom! the idea that finally helped came when our family made a big move across the country from California to Pennsylvania. Our first night there we stayed in an old ramshackle farmhouse, a little bit spooky all by itself with it's tilting floors and curtainless windows. It got even spookier in the thunderstorm, so spooky that our eleven-year-old daughter Lassen—normally quite independent—ended up in bed with us. Aha! There was the idea that let me finish the story.

Another idea in the story came from another storm, years before. One hot August afternoon I was in the kitchen making blackberry jam when a storm came up. I reassured Lassen who was then four years old and trying to be brave. She went into the living room, taking our dog Mushka. Like a lot of dogs Mushka was anything but brave in a thunderstorm. "Don't worry," Lassen said. "It won't hurt you, Mushie. It's just the air bumping into itself." A particularly loud clap of thunder brought them both scurrying to my side. Lassen, wide eyed, but still not admitting her nervousness, looked up at me and asked, "Do you need me to help you?"

The illustrations were different than any I had done before because the story takes place at night. The darkness is very important. I did several samples using water color, some with a colorful under-painting, then a dark wash over top which I scrubbed back through for the highlights. I planned for the thunder sounds and text to be light on dark. I sent these experiments to the editor and art director. They said, "Too dark." They thought it would be better to have the text dark on light and a white border around the pictures. I did some more samples and this time they said, "Too light." The art director suggested that I start with black paper and work to light, so I did, using a combination of aquarelle pencils for washes, and other colored pencils. Those samples they liked. I'd had to do a bit of work to get the people and scenes right, too.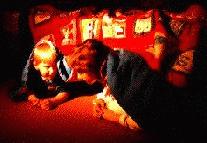 My first model was Lassen, who'd posed for other books, but at eleven she was too big. I had a young friend pose next, and that helped, but he too was a bit tall and I was having trouble with the lights and darks. I asked an even younger child to pose, got some film that would take pictures with low light, set up scenes with light coming from one direction and took more photographs. Lassen got to be the mother...and the dog! My husband was the dad.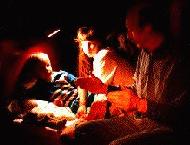 I finished the illustrations, delivered them to the publishing company, and thought I was finished. But when the art director and her assistants started putting the book together they were not happy with the dark text on white pages. They decided to try light on dark which worked better, but the thunder words clearly needed to be in color, preferably hand-drawn. They called me in, we agreed on the size and placement of the words and I took them home to trace and color on the black paper. For the next week I worked every day from early in the morning until late at night to meet the deadline. My back ached and my fingers felt like they would fall off, but it was worth it, because those hand colored words—not so different from my original idea—added just the right touch.
Published by Greenwillow Books, 1992