Then in September of 2003, Martha died quite suddenly. All of us who knew her were devastated by the loss. Sarah who was by then doing George stories as a free lance writer, said, "Now who will do George with me?" The thought of working with my daughter, doing what I could to fill the hole left by our shared loss, I decided to try. With Sarah's guidance--she knew George so well!--I did some samples, sent them to the editor, and got the job.
Sarah and I had worked together on our BEAN books, and were a good team. Her expertise with George was immensely helpful, and passing ideas back and forth was wonderful as we worked together and remembered Martha.
It was fun to do art so different from anything I had done before and I was surprised at how much I learned from copying Rey's style. He did such simple lines, and then it seemed to me did a very rough wash of gray, a stroke down through the characters and objects, which without careful shading manages to give a lot of depth once the colors are applied.
Our first book was Curious George and the First Day of School. Then I did Curious George and the Firefighters written by another in-house person, with Sarah giving me helpful critiques on the art, while she and her writing partner Jane Mason worked on the manuscript for Curious George Counts to 100. This one was a real challenge. I had a lot of input since I was going to have to figure out how to show the correct number from 1 through 100, of whatever objects were named.
Even though this was very different from the typical Rey story book I wanted to stay as close to his work as possible. I poured over his books and "stole" many of the little toys and creatures that he used, birds, bugs, pull toys, lizards, rabbits, squirrels. So many wonderful things for children to find in his work.
This book took several months of long, long days because the deadline was short. I was quite pleased with the final product though, and after a rest ready to do more George with Sarah.
But there was a change at Houghton and another editor took over George. She had her own writers and sent me finished manuscripts, by various people. They name the authors on the books now as well as the illustrators.
As of May 2016 I have completed the art for 10 "new" Curious George books, as well as the map of George's world for the 75th anniversay edition of the Complete works. Titles not pictured are Curious Geroge Says Thank You, Curious George and the Sleepover, and Curious George Plays Soccer. I enjoy helping keep the spirit of H. A. Rey's original works alive.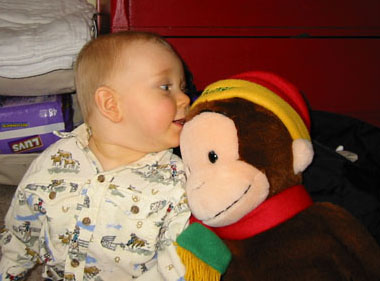 PS: Little Emmett is now in high school. Where does the the time go?