Anna Grossnickle Hines Home Guide
A Quilter's Gathering 2007
Jeanne Glenfield, one of the co-founders of A Quilter's Gathering in Nashua, Hew Hampshire invited me to be the "special exhibitor" at the November 2007 show. I was delighted. Unfortunately, Jeanne succumbed to cancer before we had the opportunity to meet, but her lovely daughters, Amy, Sarah and Kate--the "Continuing Threads"--picked up and did a wonderful job of carrying on with the event. My mother accompanied me and we had a terrific time and met some very nice people.

Below I am hanging the Pieces quilts.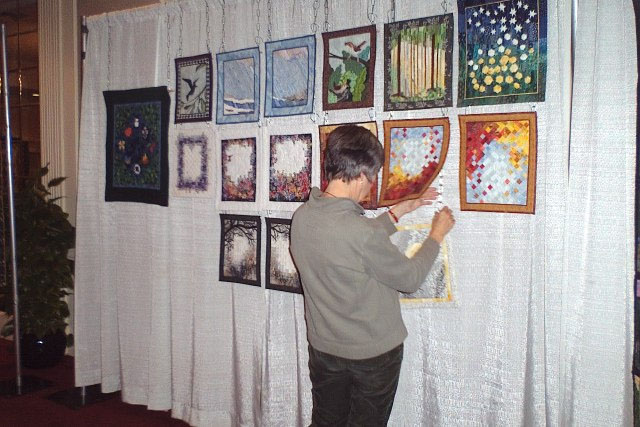 Here's the show, at least most of it, ready to open: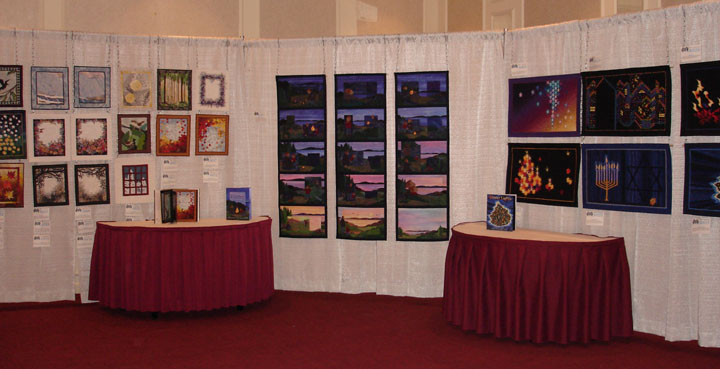 And me, proud exhibitor with the Winter Lights quilts. This was the first time I had the opportunity to hang all of the quilts from all three of my books together, Pieces, Winter Lights and Whistling, and I must admit, that alone was a thrill.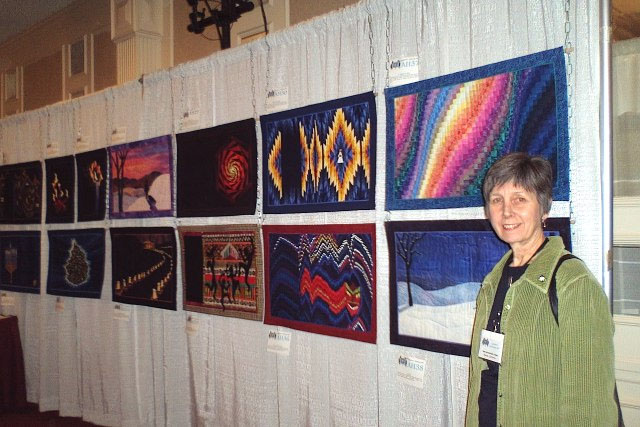 My Invitational Exhibit, "Poetic Visions - Picture Book Quilts", was one corner of a much bigger show, featuring 132 quilts entered into the contest, "The Circle of Life", plus the work of more than a dozen outstanding teachers and lecturers. The winning quilts can be seen on A Quilter's Gathering website.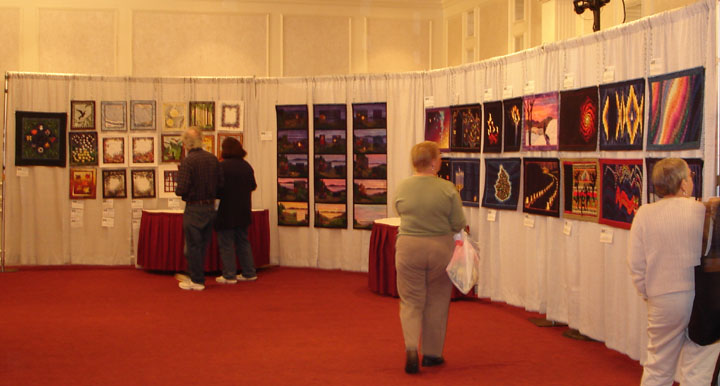 It was a busy four days and great fun to see people's reactions to my work and to chat with them about quiltmaking and books.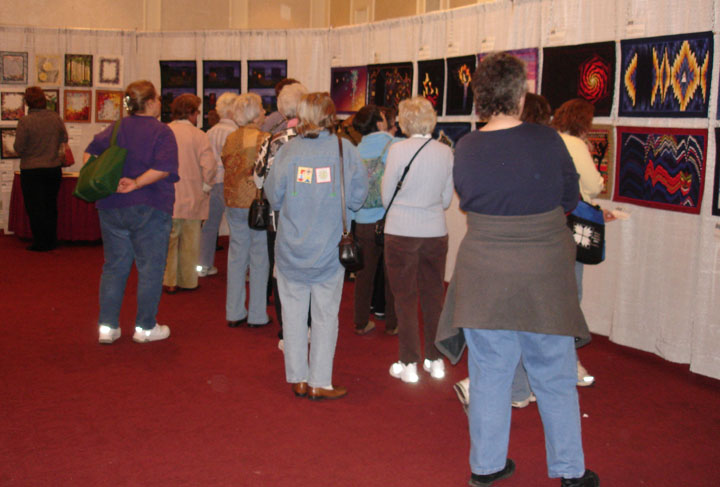 I also very much enjoyed spending time with talented teachers including Ann Fahl, author of Coloring With Thread, Wendie Butler Berns, and Pamela Mostek, but have to admit the biggest thrill was having George Siciliano, who gave the opening night keynote address and whose work I have long admired, get so excited about my quilts that he had to get his wife Virginia to come see. Seeing George's work in Lancaster and Paducah was an inspiration to me.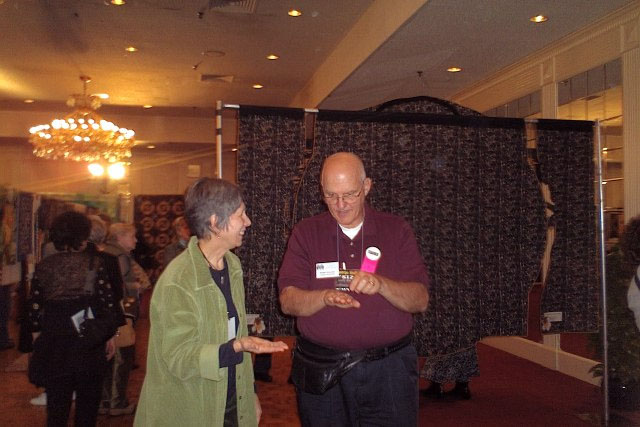 I had done my first book, Pieces, and gotten many comments on how small the pieces were--mostly 5/8 inch squares and half square triangles. After seeing George's work, my Pieces work seemed huge! I was inspired to work much smaller in Winter Lights.

The quilt below is one of the first I saw of George's. It is approximately 12 inches wide.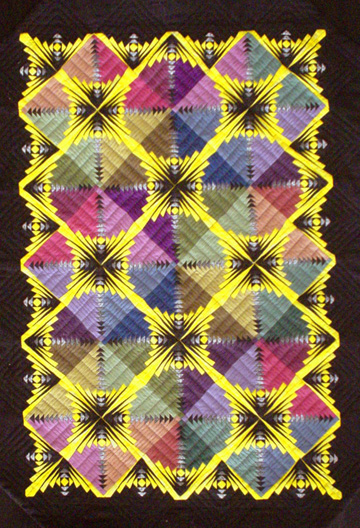 George only does log cabin quilts and feels he hasn't begun to reach the limit of what he can do with that one simple block. The block may be simple, but what he does with it isn't. This is larger than most of George's quilts, but that doesn't mean the pieces are. The size of the square blocks increased mathematically in a way that he explained, but I've forgotten. What I do remember that the square blocks nearest the center, each one just half an inch on a side, each have 41 separate pieces! That is tiny!!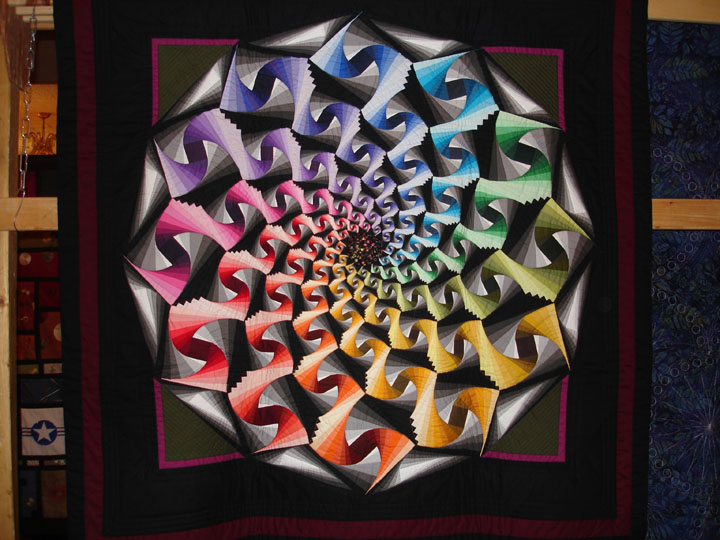 Here is a close-up. Just compare the size of the thread and stitches with the size of those pieces.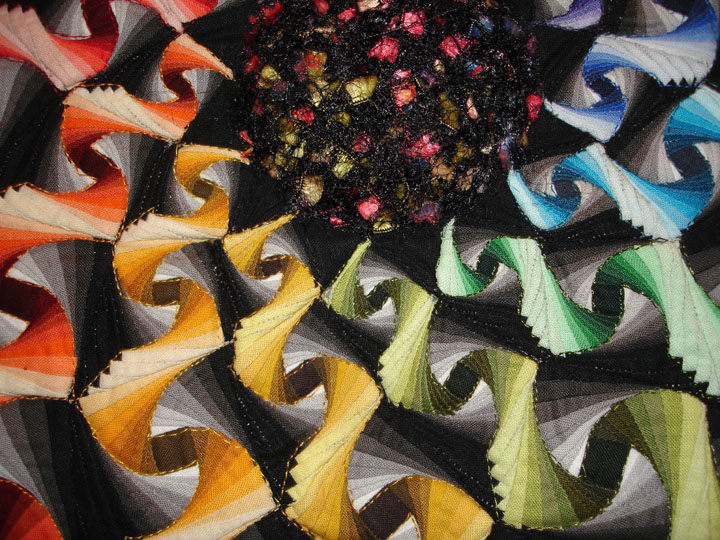 Here are the quilts above long with more of George's work, while George chats with his fans. He teaches in partnership with his wife Virginia. Her specialty is hand quilting and both of them have quilts in the permanent collection in Paducah, along with many prizes.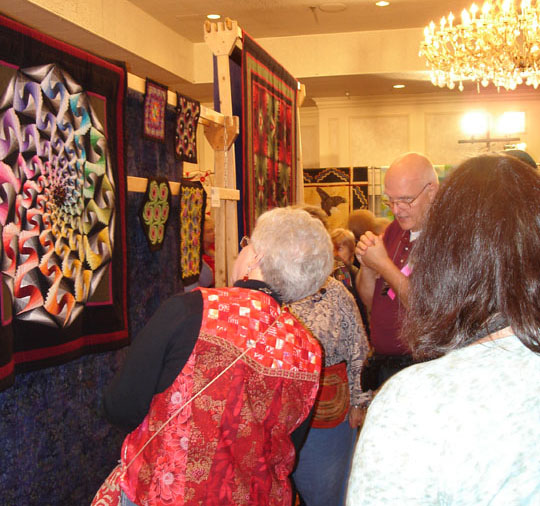 Home
Guide
Top of Page
Pieces
Winter Lights
Whistling
Quilts, Dolls and Books
Quilter's Page
Quilts in the Classroom