My mother was given one of Great Grandma's unfinished quilt tops. It stayed in a drawer for years, but just before she retired, Mom got it out and had her sister, my Aunt Esther, help her finish and prepare it for quilting. By the time she finished hand-quilting it Mom was hooked.
She took a quilting class and won a prize with her very first quilt.

In less than a decade she has completed nearly 40 quilts from queen to crib sized, many of them completely hand-quilted. She has also made Christmas pillows, wall hangings, and

table runners for everyone in the family, and contributed to at least 18 quilts for her guild and community service. Last time I asked she had 11 more projects in the works.



Here, Mom is hand-quilting her Irish Chain quilt. Her goal was to do enough hand-quilted bedquilts that each of her five kids could have one. Then her goal was to do enough that even the last to choose would have a choice. She passed that long ago. Any of the quilts she has done will be a treasure.



Irish Chain: handquilted

White on white: hand quilted

Desden plate: hand quilted

Mom's Five Children:

Ohio Star: hand quilted



Windmill: handquilted


Mock Log Cabin: hand quilted


Scrappy Star Lap Quilt

Ohio Star: Machine quilted

Mormor: Machine quilted

Jacob's quilt. 1996

Other Great-grandchildren who have or will be getting quilts include Lauren, Kristopher, Natalie, Emmett, Alora, Violet and Colyn Jo.
The quilts below were in the works as
of June 2004 when I took these pictures.


While Mom was with me at A Quilter's Gathering in November 2007, her two latest quilts were
winning prizes in the Santa Clarita Quilt Show back home. Her Grandmother's Flower Garden is completely hand-pieced and hand quilted. You can see it's beginning's above.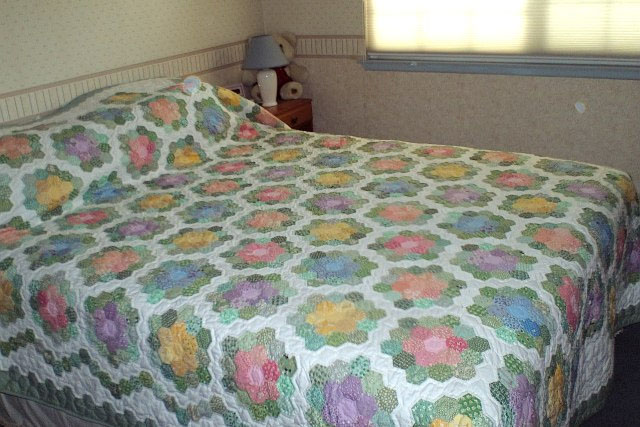 It was a Chairperson's Choice and Second Place Viewer's Choice Winner.
Below is her double wedding ring quilt, a gift to my daughter Lassen and her husband Brian
who were married in 2004.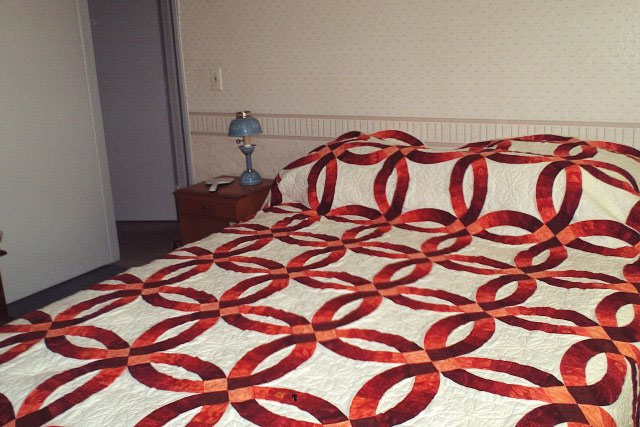 Another Chairperson's Choice Ribbon.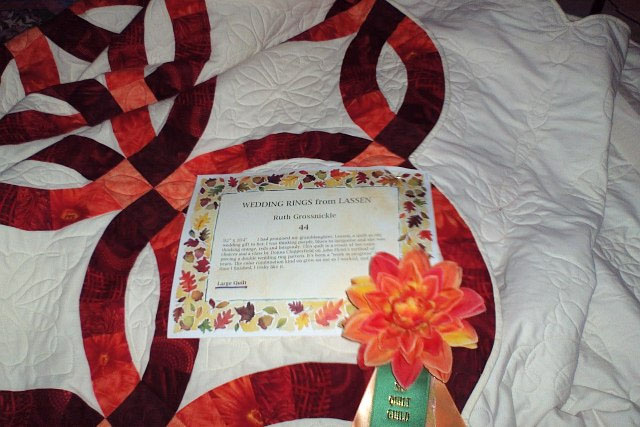 Mom is ready to allow each of her five children to "claim" one of her hand-quilted quilts.
Each of us is to give her our top three choices from these eight quilts:
her first Sampler Quilt, White on White, Grandmother's Flower Garden, Ohio Star,
Mock-Log Cabin, Dresden Plate, Irish Chain, and the Dutchman's Puzzle (pinwheel).
However will I choose? The great thing is, there isn't a loser in the bunch.
It was when we decided to give Mom a quilt from the whole family that I got seriously involved
in quilting. How we made Mom's Quilt
Home
Guide
Top of Page
Pieces: A Year in Poems and Quilts
Whistling
Winter Lights: A Season in Poems and Quilts
Quilter's Page
Quilts in the Classroom
Quilts, Dolls and Books