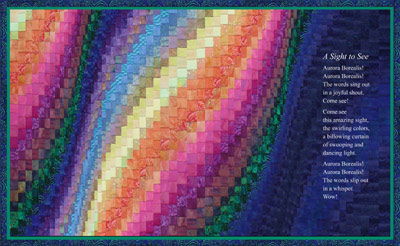 My work focus is still on the quilts for Winter Lights and will be for the rest of the year.
Each poem and quilt in the book is about a different "winter light", some involving holidays and others about such things as candles, firelight, a flashlight under the covers, and sun sparkling on an icicle.
This one, done with bargello quilting, is about the northern lights, and the one below, a solstice bonfire.
This is the computer design, the most intricate so far. It is constructed with triangles, each 13/8 inches on a side and made with 19 pieces of fabric. Very tiny! It will take 650 triangles to complete the 18 x 30 inch quilt for the book.
Yes, I am crazy, but very pleased with the results so far.
Peacefully,
Anna