How old are you?
I was born in 1946. Can you figure it out? This picture was taken when I was six weeks old. I don't look terribly happy, do I? I wonder what I was worried about.

Do you have brothers or sisters?

I have two sisters and four brothers. I am the oldest.

I think this picture was taken in 1962. I would have been 16 and my youngest brother Alan, the one on my shoulder, would have been two. All the others are in between. Their names are Nelda, Joe, Sue, Dean and John.

Here we are all grown up. I'm in the middle next to my grandmother. My youngest brother is the one behind and to my right. I don't think I could get him up on my shoulder any more, do you? The guys are Dean, Alan, Joe (behind me) and John. Nelda is in the red and Sue is next to her. The picture was taken at Sue's house in 1983.


Do you have any kids?

I certainly do. I have three daughters. Bethany was born in 1968, Sarah in 1971 and Lassen in 1979.

Here we are on Christmas in 1980.

This picture was taken in 1991 on Sarah's wedding day. She's the one in the middle. Lassen is almost 12 in this picture. Too bad they all got too big to model for me anymore. But I still love them anyway.

Now they are all grown-up with partners and two even have kids of their own. Bethany is married to Robert and they have Jacob, born in 1995. Sarah is married to Nathan and they have Emmett, born in 2001. And Lassen's partner is Brian. They've been together since they were sophomores at Rhode Island School of Design, 1998, I think.

This is the family in 2002.

From the top...


Gary, Lassen, Brian, Robert,


Bethany, Sarah,


Jacob, Nathan and Emmett.


I love being a grandmother!!

Now I have a third grandchild. Violet was born in 2004.

Here's a more up-to-date picture, taken on Christmas 2009. Bethany made these great mustaches for all of us.

Nathan, Sarah, me, Gary, Bethany, Robert, Lassen, Jacob and Brian

with Violet and Emmett in front.

Jacob is 14 here and taller than his parents. Emmett is eight and Violet five. As for everyone else...I'll just say we aren't too old to enjoy being silly.

As long as we're on family, here is a picture of my three girls and some of their cousins. Bethany and Sarah are the big girls and Lassen is the one in pink on the other end. The youngest ones in this picture are in college now, and even the six born after this picture was taken are growing up fast. I have lots of pictures of them in my photo files though. They will all be models for a long, long time.

Here's my whole family on New Years Day in 1995. A lot of us, aren't there? My mom is in the middle and my step-mother is on the end of that row in the red shirt. All the rest are my sisters and brothers and our husbands and wives and kids. My dad died in 1977. He would have liked having all these grandkids.

We've grown a lot since this picture was taken, both in size and number. Those little kids in the front row are all grown-up. The grandchildren have added four more spouses, and my sister has reconnected with a son she gave up for adoption. Counting his two children there are now twelve great-grandchildren in the family.

This is my mom in front of the quilt we made for her in 1996. All her kids and grandkids, and brothers and sisters, and some of her friends, each made a square, then we put it together. My mom has been spending her time quilting since she retired in the early '90s, and guess what? She got me started. That's what led me to do the quilted illustrations for Pieces.
My husband Gary and I now live in the redwoods on the coast of northern California near the town of Gualala.

This is our home. The top floor is my studio. I have a writing area, a drawing and painting area and a sewing area. We converted a bedroom downstairs into a studio for Gary. We have put three guest bedrooms over the garage so we have lots of room for our family and friends to visit.

This is the town of Gualala which is on Highway 1 about three hours north of San Francisco. Our home is about one mile from the town, the ocean and the Gualala River.

Two of our daughters live in Oakland, just across the Bay from San Francisco, and the third in just a little further south near Santa Cruz.

Photo is by West of One.


Did you always live there?

This is our Milford house. My studio was at the top, with all the windows.
No. From 1990 thru 2001 we lived in Milford, Pennsylvania. It was beautiful there and I loved the changing seasons.
For seventeen years before that, we lived in the mountains in California, not too far from Yosemite National Park. That was a pretty place, too, but not as green as Pennsylvania, and even though we had snow in the winter the springs and falls weren't nearly as colorful. I moved there from Los Angeles where I had lived since I was eleven years old. That was not a pretty place. I never liked Los Angeles. Before that I lived in Ohio which was a lot like Pennsylvania.
My favorite place from the time I was 7 until I was an adult was here at my Grandma and Grandpa's farm in Goshen, Ohio. It had a creek, just like the house we live in now, and the fields and trees, grandma's garden and lots of cousins.
Almost every Sunday, and usually Saturdays, too, all of us would be at Grandma and Grandpa's. I'm the one in the front right-hand corner, holding the doll. The baby is my youngest sister, Sue, and the little guy standing in the back is my brother, Joe. My sister Nelda is the one in the middle with the grin. The others are all cousins and, of course, there were aunts and uncles to go with them. Twenty people or so for dinner was normal.
Grandma was always one of the most special people in my world. Here she is with my two daughters Bethany and Sarah in 1972.

Grandma died in 2002, at the age of 94. I know she's still watching make me my books though, proud of every one.


How do your kids feel about being in your books?

Mostly they like it. Lassen was the right age to pose for pictures for many of my early books, and begged me to write one about her. So I wrote Grandma Gets Grumpy.

Lassen is 3 years old here. That's when she posed for Come to the Meadow.

Sarah was a bit embarrassed when some of her friends found out that All By Myself, which is about a very small child deciding she doesn't want to wear diapers at night anymore, was based on something Sarah did when she was two years old. She was in the eighth grade at the time.

Here are Bethany and Sarah when Sarah was two and decided she didn't want any more diapers. I've occasionally been asked why I draw such rosy round-cheeked children. Can you see why?

And here is Sarah's eighth grade graduation picture. She does look a bit sophisticated for a potty training book, doesn't she? At least I changed the child's name. Maybe she'll forgive me someday.
Does your family help you make your books?
My family has helped me by posing for pictures, by reading my stories and giving me suggestions for improving them, and by looking over my pictures. Most importantly though, they have helped by encouraging me, being proud of me, and understanding when dinner wasn't ready on time.

My grandchilren have also given me ideas for books, and posed for pictures. They like it when I visit their schools. They love to come to my studio where they draw endless pictures, read books, and have been learning to use my sewing machine to make hats, bags, pillows and small quilts.

Does anybody else in your family write or illustrate books?
My husband has written three books which I illustrated and three more--so far--which I have not illustrated. Holt published The Christmas Tree in the White House and Thanksgiving in the White House, both illustrated by Alexandra Wallner, and Boyd's Mills published The Midnight Forests. Before Gary started writing children's books he was writing songs, newspaper articles, brochures, and programs for campers as part of his job for the Forest Service. I gave him the idea that, since he could write, he might be able to write books for kids. You can learn more about him and his books by going to his bio, his web page or the books we have in common: Flying Firefighters, A Ride in the Crummy, and Day of the Highclimber.
Sarah and I have done the BEAN and SOUP books together. She has worked as an editor for publishing companies and now has her own freelance writing and editing business going. She's written things like Curious George, Star Wars books, and lots more. Her husband Nathan does story board animation for movies and television commercials.
Lassen studied illustration at Rhode Island School of Design and hopes to illustrate children's books someday. Meanwhile, she paints awesome murals.
Bethany has a great blog, does a lot of crafting, sewing, and re-visioning of items she picks up at thrift stores and yard sales. She's had projects published in Pretty Little Patchwork, Pretty Little Potholders, and Pretty Little Cozies for Lark books, and in 2009 teamed up with Sarah to do Show Off for Candlewick.

If you couldn't be a writer and illustrator what would you be?
If I couldn't be a writer and illustrator I would like to have some kind of job working with young parents, helping them get their kids off to a good start.

Do you have any pets?
I have a great dog named Tucker. He's very smart and does lots of tricks. Here he is on the beach with my grandson, Emmett.
Do you have any hobbies?
I enjoy gardening and knitting. I used to sew a lot of dolls and stuffed toys and usually manage to make something for Jacob, Emmett and Violet at Christmas time. Violet usually greets me with a few things she wants me to mend, or ideas for things we might sew. Here we are on Christmas with our dolls (yes, the blond one is mine) dressed up in the new clothes I made for them.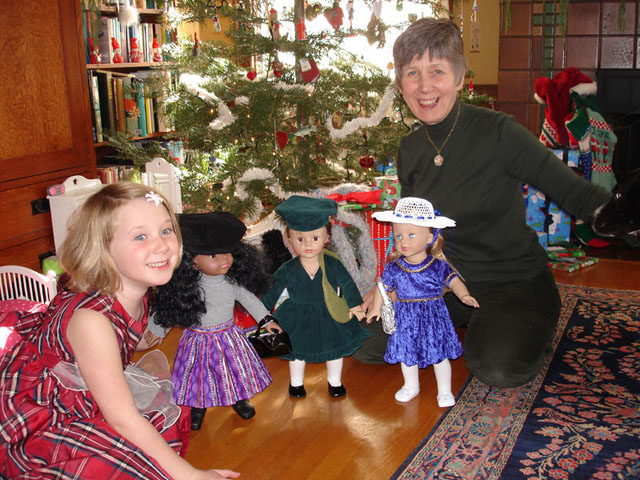 I enjoy reading, too, mostly children's books and adult non-fiction books about psychology, philosophy, spirituality and children. I also enjoy playing card and word games.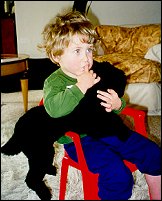 Here is Jacob and the puppy I made for him when he was two.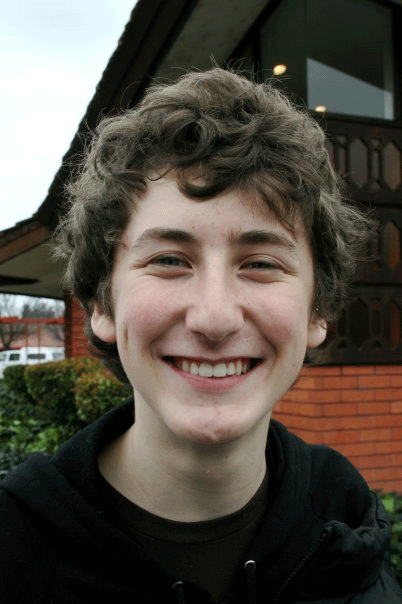 Now he's in high school and a couple inches taller than me.