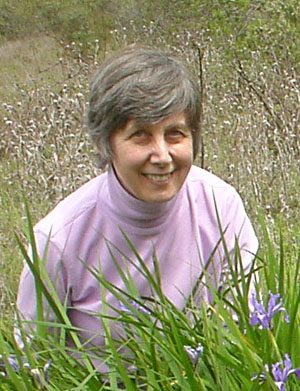 As a child I was very shy, but enjoyed the attention I got from having my first grade teacher put my drawings up on the wall. At the age of seven, I remember sitting in my father's chair looking at a Little Golden picture book version of Heidi and telling my mother, "When I grow up I want to make books for boys and girls." She said simply, "If that's what you want to do, that's what you should do."
All the time I was growing up, first in rural Ohio then, after my eleventh birthday, in Los Angeles, California, I read and drew. Sometimes I wrote, but was shyer about that and usually tore it up. My parents and teachers encouraged me, but none of them could tell me much about how to go about "making books".
In college my teachers told me I had too much talent to waste on children's books, "only Picasso gets away with drawing children", I should "go have a baby and get it out of [my] system" and come back when I was ready to do "real art". So at the end of my third year, having taken all the basic art courses, a class in Children's Literature and another in Child Care and Management, I left school to study on my own.
I checked out stacks of books from the library and read them to the preschoolers in the day care center where I worked. I read books about writing and illustrating books for children and experimented with printing techniques. I also started writing... poetry first, then a few picture books, timidly sharing them with friends who encouraged me to keep it up. But I still didn't know how to submit my work to a publishing company, what I should send or to whom I should address it. I was twenty-eight years old before I got that information from a Society of Children's Book Writer's Conference.
By that time, having been married and divorced, I had two young daughters to support, and had earned my degree and teaching credentials from Pacific Oaks College in Pasadena. During the next eight years I taught third grade for three years, married a song writing Forest Ranger named Gary Hines, had a third daughter, continued my writing and drawing and collected over one hundred encouraging rejection letters from various publishing companies...eighteen of them from Susan Hirschman at Greenwillow.
Then on Friday, November 13th, 1981, instead of sending me a nice rejection letter, Susan called to say, "We'd like to publish Taste the Raindrops." A year later I sold Come to the Meadow to Clarion, where James Giblin had also had a long corresspondence with me, and Maybe a Band-Aid Will Help to Ann Durell who had been encouraging me at Dutton. Since then my life has been full indeed, with a wonderful family and work I love.
I am fascinated by children, by how they think, what they accomplish on a daily basis, learning about their bodies, language, the world around them, relationships with others...sorting it all out and making sense of it. What is commonplace to us is new and engaging to them and I enjoy putting myself in that mode. Every once in a while, I have the additional reward of hearing from a child, or parent of a child, for whom one of my books has meant something special. Then I'm really glad I didn't listen to my college teachers.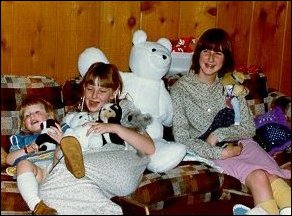 Then there were three
Here are Lassen, aged 2, Sarah, 10, and Bethany, 13. This picture was taken on Christmas Day 1981, just a few weeks after I sold my first book. I made the doll Bethany is holding, and the big white bear. One of my hobbies is making dolls and stuffed toys so the girls have a lot of homemade toys. Now that I'm a grandma I get to make some more.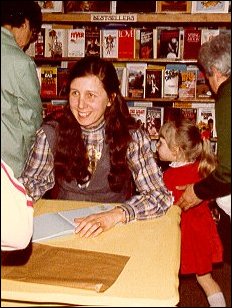 First Autograph Party
I look pretty happy, don't I? Every new book is a thrill, but I don't suppose any have been quite as exciting as the first. The signing was held at The Mountain Bookshop in Sonora, California, which is still owned by my good friends Susan and John Russel. The cutie in the red dress behind me is Lassen, who was 3 at the time. It was when she saw me signing Taste the Raindrops that she first realized I'd had something to do with creating it--and from that she figured out that other books are created by other people. We had to read the flap copy of everybook we checked out of the library to find out, "Who made this book and who is her mother and where does she live?" Lassen posed for the pictures for my second book, Come to the Meadow, and when it came out the following year she got to sign a few copies herself.